When we're looking into a bigger project or bigger investment, doing our research is crucial. Choosing a college, for example, means looking at the necessary requirements, as well as figuring out if it'd be a good fit for you. Buying a house means researching the neighborhood, completing an inspection of the house or property, and figuring out the financial impact that this will have.
In addition to all of these components of buying a house or investment property, it's important to understand the current trends that are happening, and how they might affect your decisions. Our non-recourse lenders at First Western Federal Savings Bank are here to offer you the latest in mortgage and housing trends — take a look at the current economic status and data as a whole, and apply for a non-recourse loan with First Western Federal Savings Bank today!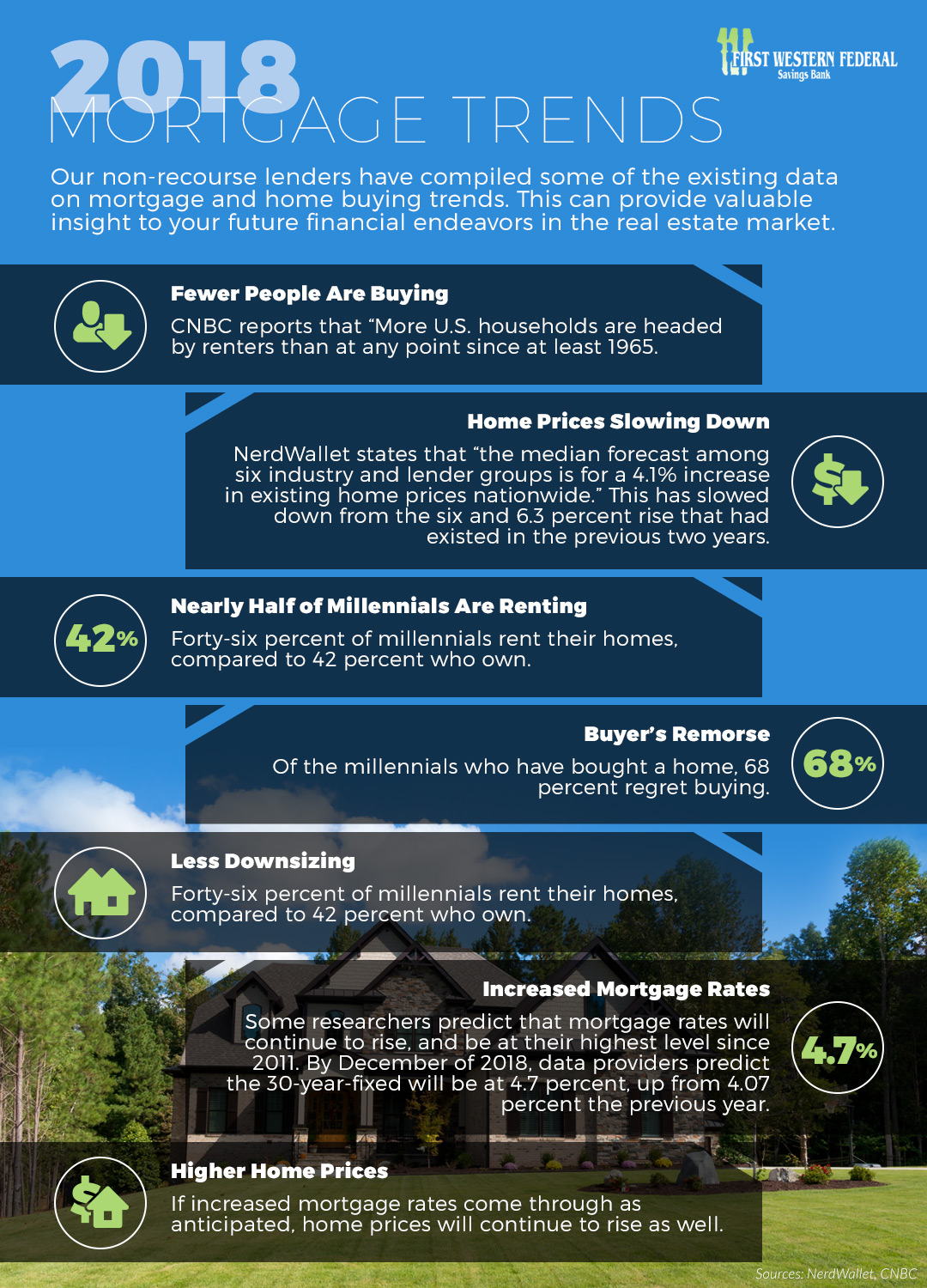 More Houses Later in the Year
In previous years, elder populations had more of tendency to downsize as they got older. Taking care of a house is already a huge commitment and requires lots of time, energy, and ability, and downsizing seemed to be the best possible way to meet everyone's needs. Smaller homes were replacing larger ones, ranches were now preferable to multi-level, and much of this stemmed from concerns for safety (falls and subsequent injuries are much more common in older people).
With newer technology, such as a stairlift, it's become more possible for people to stay in their homes as they get older. Plus, people are healthier for longer than was the case several decades ago. While this is excellent news for the current baby boomer population, this has presented some challenges to the housing market. NerdWallet reports that "home buyers are struggling to find houses for sale. The shortages are especially acute for the kinds of homes that first-time buyers tend to get."
However, the article states that this looks to change by the end of the year. Economists predict that there might actually be a growth in inventory, making it not only easier, but possible, to invest in property.
What This Means for Your Non-Recourse Loan
As someone who invests in properties, there's a good chance that more houses will become available later in the year. It'd be advantageous to continue watching these trends, thinking about your next investment property purchase.

More People Are Renting
Due to many circumstances that we will cover in a later blog, more people are renting now than they have in the past 50 years. Fewer people are buying homes, and, as stated above, almost half of millennials are choosing to rent.
What This Means for Your Non-Recourse Loan
To put it bluntly, it's practically a gold mine. Using a non-recourse loan is a great way to purchase a property that can be turned into a rental, either for long-term tenant or vacation purposes. By investing in rental properties now, you're meeting the needs and trends of the current real estate market. With more people looking to rent, you could be on the cutting edge of purchasing a rental property, providing a need and generating additional revenue (as well as equity!) all at once.
In a future blog, we'll talk about some of the reasons why fewer people are renting. In the meantime, take stock of this information, and use it to make some informed decisions. Investing in rental properties can seem like an overwhelming and nearly impossible task for some, but it's a sound financial decision that can make such a difference for your portfolio as a whole. Get started with your non-recourse loan application today with First Western Federal Savings Bank — we look forward to hearing from you!